What is Facebook's Libra Project?
In June 2019, Facebook announced in a whitepaper that it would be launching the Libra project, which comprised of two parts:
Libra token, designed broadly similar to other cryptocurrencies, but differed fundamentally to operate as a more stable (and less speculative asset), and
Blockchain network that would be the technical foundation of the token and the tool for verifying transactions and confirming token ownership.
The Libra Association:
Facebook's New Crypto Oligarchy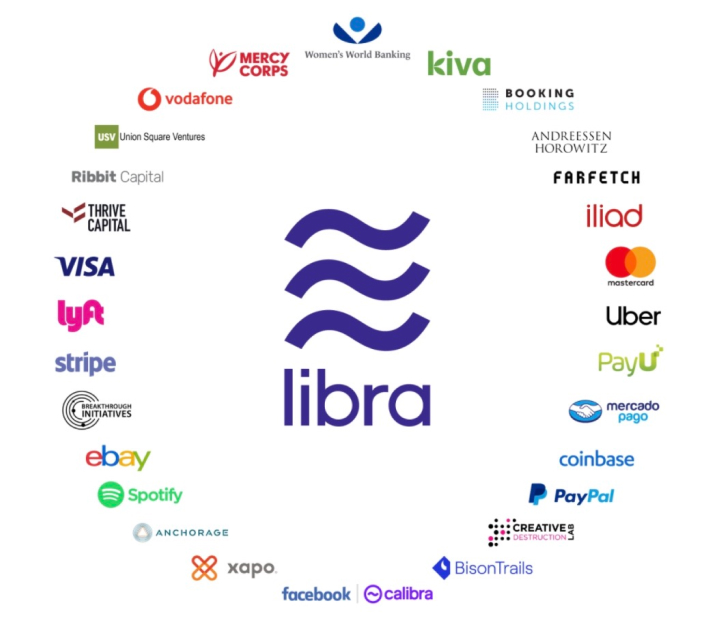 Anticipating scrutiny towards the project, which did in fact come in waves, Facebook created a nonprofit, called the Libra Association, based in Geneva, Switzerland.
The Libra Association serves two main functions:
To validate transactions on the Libra blockchain, and
To manage the reserve Libra is tied to and allocates funds to social causes.
Membership
Within the Libra Association is a governing body called the Libra Association Council, comprised of a representative of each member of the association. These representatives will then vote on policy and operating decisions.
Each founding member to the Libra Association paid a minimum of $10 million to join and optionally become a validator node operator, gain one vote in the Council and be entitled to a share (proportionate to their investment) of the dividends from interest earned on the Libra reserve into which users pay fiat currency to receive Libra.
At launch, the Libra Association's founding members included 27 companies:
Payment Providers
Mastercard
PayPal
PayU (Naspers' fintech arm)
Stripe
Visa (via Letter of Intent)
Tech Companies
Booking Holdings
eBay
Facebook/Calibra
Farfetch
Lyft
Mercado Pago
Spotify AB
Uber Technologies, Inc.
Telecommunications Companies
Blockchain Companies
Coinbase
Anchorage
Bison Trails
Xapo Holdings Limited
Venture Capital
Andreessen Horowitz
Breakthrough Initiatives
Ribbit Capital
Thrive Capital
Union Square Ventures
Nonprofit Organizations
Creative Destruction Lab
Kiva
Mercy Corps
Women's World Banking
Facebook/Calibra's membership in the Libra Association allows Facebook (along with each member) to get up to only one vote or 1% of the total vote, whichever is larger, in the Libra Association council.
Exit of Libra Co-Founder Morgan Beller
However, Facebook's initial June 18, 2019 announcement that it would be shifting course into the world of finance, creating a global financial system didn't last long.
Upon its announcement, it immediately attracted an outcry of privacy concerns by lawmakers and regulators due to the ongoing concerns surrounding Facebook's platform and advertising policies--something that its CEO is still answering for before Congress in 2020.
Within minutes, France's Minister of the Economy and Finance, Bruno le Maire, who happened to be in the middle of a live interview when Facebook first published its announcement, responded within minutes, criticizing Libra, and stating that Libra should not be developed in the EU. Other politicians and government officials quickly followed suit.
On July 15, 2019, Facebook announced that its currency would not be launching until all regulatory concerns have been met and Libra has the "appropriate approvals".
In September 2019, Morgan Beller, 27, left her role as Novi's head of strategy to become a partner at NFX, a venture capital firm focused on seed investments with offices in San Francisco and Herzliya, Israel.
Beller rose to prominence in 2019 as one of the founders behind Libra, developing the idea for the Facebook-backed digital currency alongside David Marcus, a former PayPal president and Facebook vice president. She has been credited by those throughout the blockchain community as the original driving force behind Facebook's decision to enter the cryptocurrency sector.
October 2019: Mass-Wide Exits
One month after Beller left Libra, seven companies, including PayPal, Mastercard, Visa, Mercado Page, eBay, Stripe, and Booking Holdings pulled out of the Libra Association in fear of regulatory and privacy concerns.
Facebook claims it will keep financial data from transactions on Libra separate from user ad profiles. The blockchain is "pseudonymous", the company said and, like many crypto networks, will allow users to hold one or more addresses not linked to their real-life identities. They also keep the integration into Facebook Messenger and WhatsApp separate from Facebook user data.
Vodafone Exits
During that same period, British telecom conglomerate Vodafone, became the eighth company to pull out of the Libra Association, but first one to exit the company since it was formally organized. Instead, Vodafone said it would be leaving specifically to focus on its own related, successful digital payments service, M-Pesa, and that the exit was unrelated to the regulatory concerns.
Start buying and trading cryptocurrency
Sign up and start opportunities with the future of currency
Sign Up Now
The Libra Currency
When Facebook first launched Libra, it described it as a "global currency and financial infrastructure" that was a digital asset and powered by a new Facebook-created version of blockchain technology.
The name 'Libra' comes from the basic Roman measurement of weight, invoking a sense of financial freedom by playing on the French stem 'Lib,' meaning 'free.' It is notated by the £ symbol originally comes from an ornate L in Libra.
Serviced and distributed by the Libra Association, Libra functions as a "stablecoin", pegged to existing assets including the USD, EUR, British pound, Swiss franc, and yen.
The Libra Blockchain
According to Libra's developers, the Libra Blockchain is a "decentralized, programmable database designed to support a low-volatility cryptocurrency that will have the ability to serve as an efficient medium of exchange for billions of people around the world".
Move: A new programmable language for Libra smart contracts
Additionally, validators process transactions and interact with one another to reach a state of consensus on the state of the database.
All transactions are based on predefined and in future versions, user-defined smart contracts that are written in a new programming language called Move.
Move, according to the developers, is used to "define the core mechanisms of the blockchain, such as the currency and validator membership. These core mechanisms enable the creation of a unique governance mechanism that builds on the stability and reputation of existing institutions in the early days but transitions to a fully open system over time".
Calibra
At the same time the Libra Association was launched, Facebook also launched a subsidiary company called Calibra along with its digital wallet of the same name, Calibra, which will use the native currency, Libra.
Calibra, now renamed to 'Novi', is a subsidiary of Facebook and was designed per the company to "provide financial services that will enable people to access and participate in the Libra network".
Facebook anticipated launching Calibra in the first half of 2020, while integrating it into Facebook Messenger and WhatsApp, a messaging service also owned by Facebook.
The company explained that Facebook/Calibra and other founding members of the Libra Association would earn interest on the money users cash in that is held in reserves to keep the value of Libra stable.
'Novi' Rebrand
On May 26, 2020, Facebook announced that its Calibra wallet had a new name, rebranding to Novi. By rebranding to Novi, Facebook wanted the public to know that the Libra project isn't a Facebook project alone, but just one member of the Libra Association with dozens of the other members listed above.
According to the company, the Libra Blockchain is supposed to operate independently from Facebook, while Novi is a pure Facebook project headed by Marcus (now that Beller has left the company). Facebook says that the name 'Novi' comes from the Latin words "novus" (new) and "via" (way).
Novi's first product will be a cryptocurrency wallet, which allows a user to download a standalone Novi app on his/her/their phone. While a Facebook or WhatsApp account is not necessary in creating a Novi account, it makes it easier to access directly in Messenger and WhatsApp.
Facebook plans to use Novi to help address and minimize money-laundering, implementing KYC protocols. The company says that when a user signs up to Novi, they will be required to take a photo of a government-issued ID, preventing Novi from being used to send money anonymously.
Novi plans to launch its wallet when the Libra network goes live, assuming all the ongoing regulatory concerns are satisfied and approved by U.S. Congress.
As of November 2020, Facebook believes Novi to eventually become mainstream and used to access currencies in Libra. Scientists at Facebook's Novi division proposed a transaction settlement system called FastPay, which it claims to be seven times faster than traditional payment systems like Visa. FastPay claims to solve the transaction speed issue by enabling authorities to jointly maintain account balances and settle prefunded retail payments between accounts.
Libra 2.0
A year after Libra 1.0 was announced, Facebook announced Libra 2.0, which was a new plan for a scaled-down, regulatory-friendly financial network.
Due to the ongoing privacy concerns surrounding Facebook's platform and advertisement methods, the initially expected launch of libra and Calibra have been stonewalled by regulators and lawmakers, delaying the launch of both technologies.
In March 2019 , Facebook announced that it no longer intended to make the Libra token, which was supposed to be the centerpiece of the company's digital payments strategy. Instead, the project will reportedly transition to supporting both existing government-backed currencies, like the US Dollar (USD) and the euro (EUR), and the Libra token when it is eventually completed and ready to launch.
The Future
As of the date of writing, Facebook has not announced a launch date for Novi or Libra, only revealing that an "early version" of Novi will be launched when the Libra network is available.
Start buying and trading cryptocurrency
Sign up and start opportunities with the future of currency
Sign Up Now