What is PrimeXBT?
Serving clients in more than 150 countries, PrimeXBT is a Bitcoin-based margin trading platform that offers instant access to over 30+ assets, including Crypto, Forex, Commodities, and Indices with real-time market data.
It was founded in 2018 and registered in Seychelles, with a daily trading volume of over $375 million. In 2020, the company won the award for best bitcoin Margin Trading by ADVFN International Financial Awards.
For the uninitiated, "margin" is the debt, or borrowed money, that a trader uses to invest in other financial instruments.
What makes the platform unique is that it's fully autonomous, which discourages hackers from coming onto the platform and attacking the exchange to steal identities. Bitcoin margin trading has helped inject institutional investors into the industry, which is a significant factor behind Prime XBT's popularity.
Features
So, why is this arguably the number one bitcoin margin platform?
#1 - Leverage

Bitcoin leverage trading allows you to control more sizable positions and make more profits. The amount an individual puts down to open a trade in bitcoin leverage trading is known as margin.
This is usually expressed as a ratio, which is the rate at which you can take on debt. For example, a 20x leverage means that if you have $1, you can trade up to $20.
PrimeXBT Leverage is one of many features that advanced, experienced traders look for because most platforms offer very limited leverage when trading crypto. The exchange offers a 100x leverage, or for every $1, you can trade up to $100. The ratio is 1:100.
If you have a higher exposure to the market, PrimeXBT will reduce leverage limits, as depicted in the image above. By having a larger position, requires you to have more margin, ultimately reducing exposure risk.
#2 - Asset Coverage
The wide-range of coverage PrimeXBT offers is what makes this so popular. Users are able to exchange a large range of markets using Bitcoin as leverage, including crypto, forex, commodities, and indices.
#3 - Competitive Fees
The exchange offers two types of fees: trade fee and overnight fee. Both fees are fixed at 0.05% (0.0005 BTC).
Cryptocurrency exchanges make money by charging a fee on every trade that is made on their platform ("trade fee").
An overnight fee, also called a "rollover fee", is a payment that applies if you hold a position overnight. This is an industry-standard, which reflects the supply and demand driving the market. This is an interest payment to cover the cost of the leverage that you use overnight. Specifically, if you're financing a leveraged position for more than 24 hours, you will then be charged with the overnight finance fee.
However, if you're completing the leveraged position within 24 hours, then you don't have to pay any fee.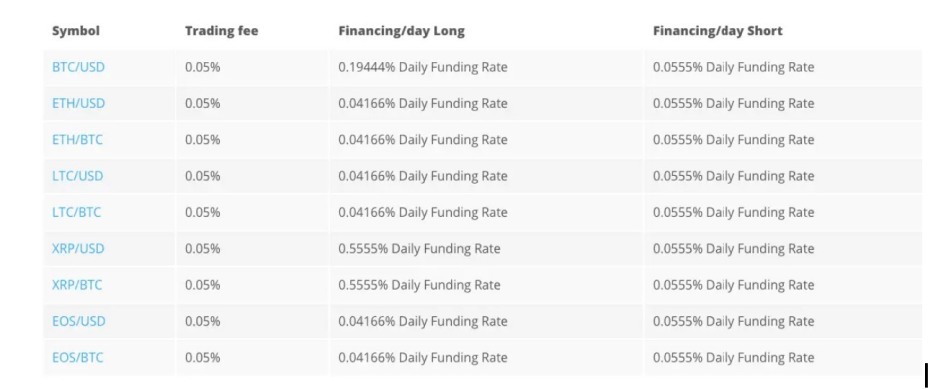 Contrary to many exchanges, PrimeXBT does not charge a deposit fee--only the minimum Bitcoin network fee that is paid when an individual withdraws Bitcoin from an exchange, which is calculated by the blockchain load.
#4 - Competitive Fees
You're probably already familiar with how coins can be stored--hot wallets and cold wallets. Most of the coins kept at PrimeXBT are stored in cold storage, off-line and disconnected from the internet, avoiding any risk of hackers penetrating the network.
The exchange utilizes an extensive cybersecurity framework to make sure that strict measures and best practices are implemented to protect customer assets against any eventualities and threats.
#5 - Customer Support
The exchange offers 24/7 customer support and a live chat integrated into the platform. Users also have the ability to email support at [email protected]. Another way to contact them is via Telegram or Twitter.
However, a disadvantage is that there is no service to clients from the US and Canada, with no dedicated phone support.
So, how does this happen?
First, because there is limited liquidity in the market, and two, the matching engine at the exchange isn't fast enough. In efforts to prevent slippage, PrimeXBT's trading engine can execute orders at below 7.12 milliseconds on average.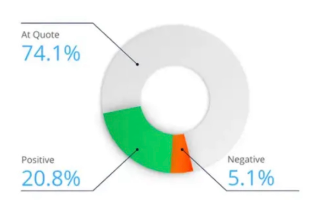 Slippage stats at Prime XBT
When the exchange measures its slippage, you can see that 94% of users orders were met at Quote or better | Source: Blockgeeks
Supported Currencies
Currently, the currencies supported by PrimeXBT are Bitcoin, EOS Token, Ethereum, Litecoin, Ripple, among others.
Covesting Copy Module
Back in August, PrimeXBT launched its Covesting Copy Trading Platform to the public.
Covesting is an innovative copy trading platform that pursuant to a white label licensing agreement, brings together PrimeXBT and Europe-based fintech software developer, Covesting, which helps connect traders with followers, enabling them to profit from one another synergistically.
The Covesting module on PrimeXBT tracks all strategy metrics in a public rating system, such as ROI, daily profit, equity, and total followers. Followers can earn up to 70% of the profits generated by these traders, making it extremely attractive to those willing to explore and play.
Essentially, it enables users to browse and instantly copy their trading behavior through hundreds of trading strategies offered by the other traders, achieving the same returns as the leading traders on the platform.
For more information behind the development of Covesting, please click here.
What's the Industry Saying?
As the 2020 U.S. Presidential Election is upon us, PrimeXBT becomes ever more important. With the present risks involving the presidential election, another selloff of Bitcoin is likely expected as President Trump and VP, Joe Biden's campaign head into November.
Past elections have acted as the catalyst that once past, leads bulls into a new rally and Bitcoin toward new all-time highs. If it were to happen again, the next dip related to reducing risk before the election could be the most lucrative opportunity to long Bitcoin in history. For more information, please click here.
Start buying and trading cryptocurrency
Sign up and start opportunities with the future of currency
Sign Up Now